Are you someone looking for a good Tidal equalizer app? Are you finding it hard to find a compatile equalizer for Tidal?
Fret not, we are here to help you out.
We will be mentioning a list of best Tidal equalizer apps that you can use to customize your experience with the Tidal app.
---
Top 7 Best Equalizer for Tidal
Tidal has become the first choice of the audiophiles out there. The fantastic app features high-fidelity music, which is a boon for listeners, audiophiles, and home audio enthusiasts worldwide.
This is why many music lovers are trying to import their playlists and songs from popular apps like Spotify to Tidal.
Tidal has everything that you want from a music app. A gigantic music library, high-quality music, best music player, and what not. But, the only thing that the users find missing in Tidal is the equalizer feature.
Tidal doesn't feature any in-built music equalizer. Still, you can use third part equalizer apps and tools to customize your music experience. And today, here, we will be mentioning a list of the top 7 Tidal Equalizer apps.
You will find apps for all platforms – Android, iOS, Windows, and Mac. Simply check out the app description, see if the app has all the features you are looking for, and try it.
We have tried our best to include free apps only. But, some of the apps have a premium version for more features and an ad-free experience.
Without further ado, let us dive right into the details now.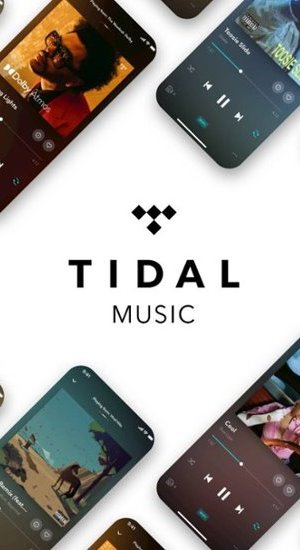 1. Sennheiser CapTune: Android Tidal Equalizer –
So, let us talk about the first contender in your list of the best equalizer for Tidal app – CapTune. The app has been developed by Sennheiser, which is known for its best-in-class peripherals like speakers, headphones, earphones, and more.
Talking about CapTune, it is one of the best Tidal equalizers for Android and iOS platforms. It has got easy to use UI design, which acts as an equalizer as well as a music player app for downloaded songs on your device.
You do not even have to import the audio files in CapTune. The intelligent app detects any kind of audio files and lets the user play it right away. The app is crispy and fast to use.
The best part about CapTune is its equalizer. It comes with a ton of features that helps even primary users to customize their music without any issues. We didn't feel any element unreachable. Again, shoutout to the app design.
You can also choose one of the many pre-installed sound profiles. These profiles come with preset settings by the experts to let you experience the music the way you want.
The user can even choose the design theme of the app according to their mood. CapTune offers a lot of features. It's a must-try equalizer of Tidal on Android and iOS.
---
2. Equalizer FX
Proceeding with the second entry in our list of Best Tidal Equalizers. We have Equalizer FX for the audiophiles looking for an alternative to CapTune.
If you are finding it hard to understand and use CapTune, you should try Equalizer FX. It comes with a different UI, and you might like it.
Talking about the features of the Equalizer FX app. First of all, we would like to mention that it is already compatible with the most popular music player apps like Spotify and Pandora. And you can easily use it with your Tidal app.
The easy-to-use app comes with 12 presets sound profiles, making it easier for the base users to enjoy the app. And not only this, if someone wants to create their profile, they can use these presets rather than starting from scratch.
Equalizer FX also features an Amplifier feature. This is for the songs having lower sound in the root source file. The feature looks cool, but it won't be able to enhance speaker loudness much.
The app is excellent; the premium version can be used for the best experience.
---
3. Boom Bass Booster: iOS Tidal Equalizer –
Next on our list of top Equalizers for Tidal. We have "Boom Bass Booster & Equalizer." And the name suggests, the app specializes in the bass sound profile.
Starting with the users experience. The device has got one of the best designs among all the apps we will be mentioning here. The app looks really good inside-out. You will really love it if you care about app aesthetics as well. And on the top, it is effortless to use.
Coming to the app feature, Boom Bass Booster & Equalizer has got the support of music apps like Tidal and Spotify. The best thing about this app is the different types of presets it features.
Along with the basic presets like Bass, Hall, Theatre, you also get different presets like Dubstep, Pop, and 27 more. The iOS-based app also features a customizable 8-band or 16-band equalizer, which offers the best experience. We can say it is the best Tidal equalizer for iOS.
"Boom Bass Booster & Equalizer" is available for both iPhones and iPads. But the app is not entirely free to use. You need to pay for the subscription.
---
4. Music Volume EQ
Another app that made it to our list of Best Tidal Equalizers is the Music Volume EQ app which comes with an excellent user interface. The fantastic UI makes it easier for a newbie to learn and enjoy equalizing music tracks.
Lets start with the UI and design of the app. Well, we will say the app looks Okayish. We have seen apps that look much better than Music Volume EQ. But, it is easy to use, so we do not have any complaints.
The app delivers a great experience when it comes to using the equalizer. It has got a 3D virtualizer which helps user experience the songs in an incredible way.
Along with the manual equalizer, we also get 9 preset sound profiles. The preset count is meager, but the visual audio spectrum compensates for the lack of presets a bit.
If you do not like our previous recommendations, you can use the Music Volume EQ app as well. You can experience the great design, but you will have to compromise on ready-made presets.
---
5. Equalizer APO: Windows Tidal Equalizer –
Till now, in our list of Best Tidal Equalizer, we have mentioned the apps and software for both Android and iOS platforms. And now, here we will be mentioning one of the best Equalizers for Tidal on the Windows platform.
The software that made it to our list of the best equalizer for Tidal is Equalizer APO. Let's start with the user interface and design of the app.
Equalizer APO is one of the best apps that lets you experience the music from Tidal in the best possible way. Unlike other Windows equalizer apps, Equalizer APO comes with an easy-to-understand design.
Usually, equalizer apps on platforms like Windows are not made for basic users. You need to invest your time to understand the working of these apps before using them. But, Equalizer APO is an exceptionally easy-to-understand app.
Coming to the features, the app comes with all of the primary sound profiles and a few additional sound profiles. You will also find an unlimited number of filters that can help you customize your music experience.
Another best thing is that you can use this app on a lower-end and mid-end Windows system. The app is light in weight and is not harsh on RAM and processors. You can try this on your Windows laptop.
---
6. Ten Bands Equalizer –
Next, we have another mobile app on our list of the best equalizer for Tidal. The app is called 10 Bands Equalizer, and its name says a lot about it. We will talk more about it in a minute.
Starting with the design and user experience. The app comes with a basic design, very minimal in visual features; if you are someone who checks the aesthetics of an app, you won't find it interesting.
But, the list of features for 10 Bans Equalizer is pretty interesting. As the name says, the app features a total of 10 bands to customize, whereas, in other equalizer apps, you will only find 5 customizable bands. This doesn't make too much of a difference, but it's good to have more features.
The 10 Bans Equalizer is best for third-party music player apps like Tidal, Spotify, and more. You can use all the basic and additional presets with third part music apps.
The best thing about the 10 Bans Equalizer is that you can even save your customized sound profiles; you do not have to remember all of them.
---
7. Amarra: Mac Tidal Equalizer –
Ladies and gentlemen, the last on the list, we have an app for Mac users. The top six apps in our recommendation were Android, iOS, and Windows-based apps. And here we are mentioning the best Tidal equalizer for Mac users called Amarra.
Let's start with the design feature of Amarra. So, if we were to explain the app in a word, we would say 'perfect.' The app is perfect in design. It's a bit complex if seen from a newbie's perspective. But, the easy-to-understand user interface will help the user in getting the best out of the app.
Many users also call it the professional-grade equalizer for the Mac platform. Talking about the preset sound profiles, Amarra comes with almost all basic sound profile presets along with some special additional ones.
If you are looking for an excellent equalizer for Tidal on Mac, which is easy to understand and easy to use, then Amarra is a great choice for you.
---
Conclusion –
We have mentioned all our favorite equzlier for Tidal app. We have tried our best to include highlight of the best features of every app. So, you just have to analyse the best possible app accorind to your needs.
If you are looking for an easy to use app or an app with high presets and other features, you can check out the description of all the apps mentioned above and select on your own.
We will also suggest to choose an easy-to-use app if you are new in the world of equalizer. As you will only waste your time in trying to understand the complex apps out there.
With this being said, we are now wrapping our article now.