YouTube owned by Google takes the first spot in terms of the most popular social media platform in 2021 according to a report conducted by Pew Research Center. The video-sharing platform is followed by Facebook.
As per the report, YouTube is used by 81 percent of the population in the US while Facebook is used by 69 percent of the people. The survey was conducted between January 25 and February 8, 2021. It also highlights that "roughly seven-in-ten Americans" still use social media platforms despite all the controversies going over the internet about the negative effects of using social media.
One-quarter say they use Snapchat, and similar shares report being users of Twitter or WhatsApp. TikTok —an app for sharing short videos — is used by 21 percent of Americans, while 13 percent say they use the neighborhood-focussed platform Nextdoor," the report said.
Other social media platform that comes after the YouTube and Facebook are Instagram, Pinterest, & LinkedIn which holds 40 percent, 31 percent, 28 percent of participants respectively.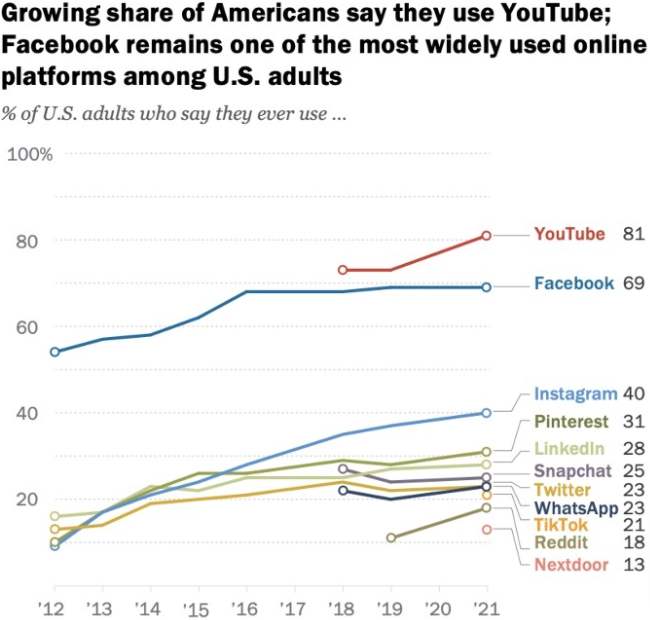 Talking in terms of growth, Reddit is the only platform that grew from 11 percent to 18 percent from the year 2019 to 2021 apart from YouTube which grew from 73 percent to 81 percent from 2019 to 2021.
The report by Pew Research Center also includes other details like what age group of people use the platforms, etc. So in case you want to know more you can visit directly visit the report by clicking on the link below.