Google has been focusing on improving the Android experience on all kinds of smart devices. Whether it's smart sync in modern cars, smartphones, smart appliances,s or smartwatches. For smartwatches, Google released a dedicated operating system called Wear OS, which serves the purpose of the Android experience on smartwatches.
Recently, the California tech giant is rolling out a new update for the Wear OS, which brings another smart and much-needed feature. The new Wear OS will now keep track of the UV index of your local area in real-time. As, you can see in the screenshot mentioned below, which has been taken from the official tweet by Wear OS, that along with details like timer, alarm time, the new update will now show you the UV index in the notification bar.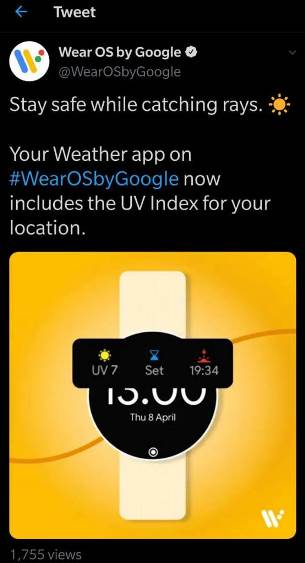 As you may already know, you are more vulnerable to Sun's harmful UV rays (Ultra Violet rays). Exposure to the high index UV rays may lead to sunburns or even skin cancer. So, the new feature will help you out with the situation by reminding you about the UV index. But, you will have to wear the sunscreen on your own, Wear OS doesn't support that feature (pun intended).
Anyways, you can update your Wear OS now, the update may arrive slowly, be patient.