Are you still wondering if the YouTube Vanced safe to use?
Still confused by reading opinions on the internet?
Well, don't you worry, we have got you covered. Here, we will be answering some of the common questions like – 'Is Youtube Vanced Safe to Use?' 'Is Youtube Vanced illegal?' and a lot more based on the facts and data.
So, without any further ado, let's dive right into the details.
---
What is Youtube Vanced App?
Youtube Vanced is a third-party app that has been created by a group of indie developers.
The aim of the app is to deliver a stock Android-like Youtube experience with some more features for customizations.
Well, Youtube Vanced comes with tons of additional features. Some of them are only available with the paid subscription of the Youtube Premium, whereas, some of them are not even supported by any version of the Youtube app.
Some of the fan-favorite features are the Force HDR Mode and the Picture-in-Picture Video. Force HDR Mode, as the name suggests, drives the chipset processing power to create HDR quality video output.
Repeat Videos and Background Playback would be our personal favorite features. Background Playback is only available for Youtube Premium subscribers. Repeat Video, one of the most asked features by the Android fraternity, lets you play the same video in a loop.
Then there are some controversial features, like the Built-in Adblocker feature which blocks every ad for you.
Youtube Vanced Features –
Built-in Adblocker
Background Playback
Pinch to Zoom For All Devices
Casting Toggle
Force HDR Mode
Picture-in-Picture Video
Override Max Resolution
Repeat Videos
Video Window Style
Swipe controls for Volume & Brightness
---
Is YouTube Vanced Safe to use?
Well, as we mentioned above, Youtube Vanced is a modded apk that is made specifically to serve additional features for the Youtube app. For obvious reasons, users may think twice or more before downloading a non-official app on their devices. Moreover, Android keeps warning the user about the risk of downloading a non-official app.
Apps downloaded from any third-party app store sometimes considered dangerous for the device as they may bring malware to your device. That's why you must always download a non-official app from a trusted source.
Here, let's discuss why some people ask if the popular Youtube Vanced app is safe or not.
First of all, not all third-party apps are dangerous or malicious. And if you download Youtube Vanced app using the links mentioned on Github, then you are not downloading any broken or fake apk.
Actually, the Android fraternity is more concerned about the potential harm that the third-party app is able to do by leaking the private data of the user.
We have seen in the Android platform that apps like Facebook, Whatsapp, and Instagram are able to access a lot of data from the user by accessing contacts, phone app, camera, and whatnot.
This is the reason why users are concerned if the app access these details and if it is safe to use or not. Some users say that nothing in the world comes for free. If the app is giving out some of the premium features for free, it must be compromising somewhere else. Leaking our precious data to other companies, in this case.
Well, this is one of the possibilities. And you never know, what someone is up to.
Now, here, we will be mentioning some of the things that we observed. Check them out and know yourself if the app is safe to use or not.
We proceeded with searching more about the development of the app. And found that the Youtube Vanced app is an open-source app having its repositories on GitHub. Well, that makes the development and codes included in the app, public.
This also indicates that anyone, even you, if you have some knowledge about the app development, can check the app build as well as the app authenticity.
Well, we haven't checked out the app build and codes, but if there would have any issues with the app, then developers and people possessing the knowledge of the app development would have asked questions about the app authenticity. But, there are no reports of such incidents.
But, we did check out some other details which can prove that the app isn't accessing the things that it shouldn't. We have attached a screenshot below. Here, as you can see, the app hasn't been given any kind of permission by the device. Moreover, the app hasn't even tried to access – camera, microphone, location, contacts, phone, or anything else.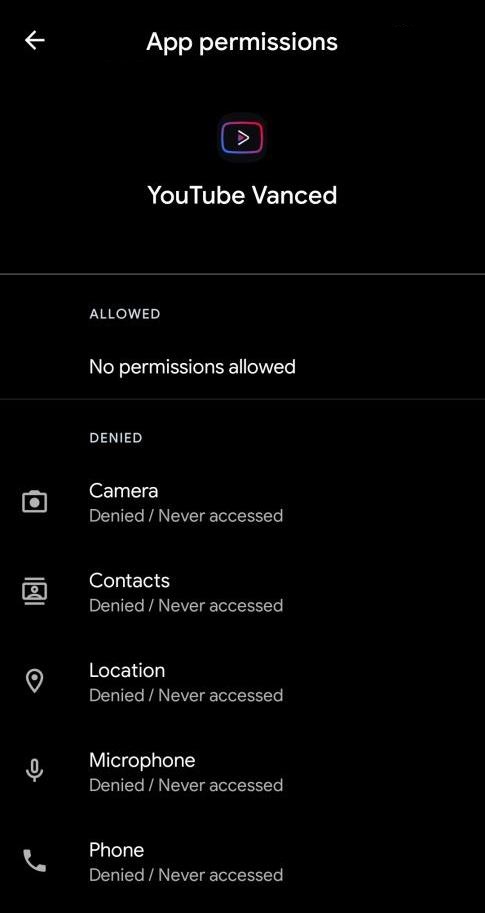 Well, the fact that the Youtube Vanced app doesn't ask for any special permission from the device somehow proves that the app doesn't even have the potential to leak any user's personal data at all.
But, we are not talking in favor of the Youtube Vanced app, and we do not take any kind of responsibility for the app's authenticity as well.
---
"Should I use Youtube Vanced app?"
One of the most common questions that a lot of Android users ask is 'Should I use the Youtube Vanced app'?
Well, let's talk about it now.
As mentioned above, Youtube Vanced is nothing but another third-party app that has been created by a group of indie developers. In the first, we mentioned how Youtube Vanced creates no issues with the smartphone. One can use it without thinking much about that.
We also mentioned how the app won't be having any kind of privacy issues. As the code isn't bugged with any kind of potential privacy threat.
But, does that mean Youtube is good to use?
Well, it is not. Youtube Vanced is unethical to use. As mentioned in the first part of this article, Youtube Vanced packs some of the features which might lurk you to use it.
Like the true dark mode theme, background playback, and a lot more. One of them is an in-built ad-blocker. Well, the use of ad-blocker is considered unethical as the creator who has worked really hard for the video wouldn't get the revenue of the blocked ads.
That's why, we won't recommend using Youtube Vanced, especially its ad-blocker feature.
---
Conclusion –
Now you can decide whether to use Youtube Vanced or not. The decision is all yours, we have included all the facts and details here.
If you think there is something we must include in this article, do let us know.
We hope you got the answers now. We have tried our best to include all details here.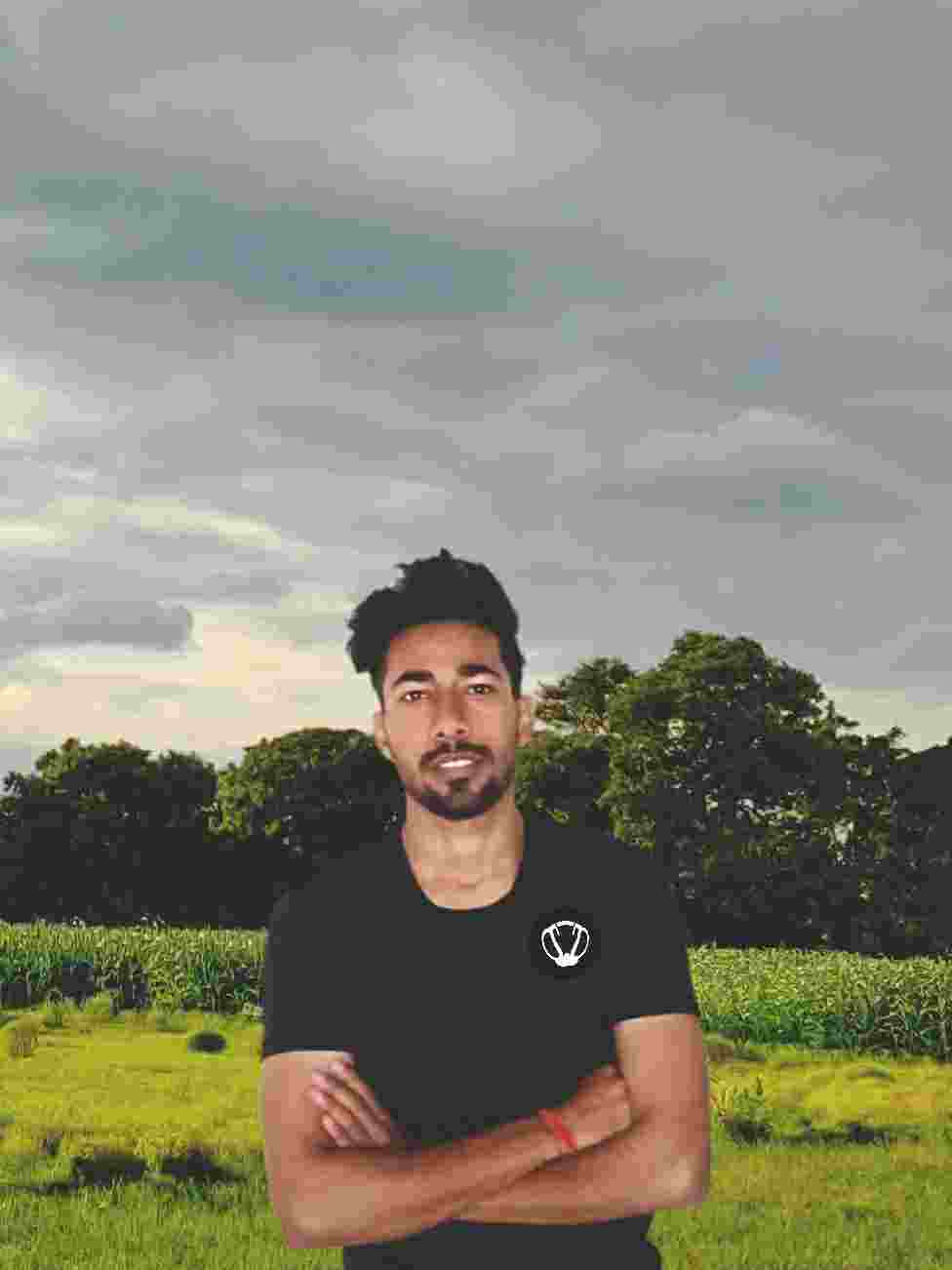 I've been interested in tech for as long as I can remember. When I am not writing about tech, I'm on the couch playing games with my squad.