Google is rolling out an enhanced version of an existing feature for its Phone app which is a really great one when seen from a security point of view.
The new update brings enhancement to the call recording feature in the Google Phone app. For your information, the call recording feature in Google Phone arrived a lot earlier, but the new update is just an additional feature that the community has asked many times.
Like any other Phone app, Google Phone lets you record calls by simply toggling the call record button. With the new update, you can select to automatically record calls from any unknown number. You can even set auto call record for specific phone numbers by entering them in your directory.
Well, the new feature was first teased in an app code, and now it is rolling out on the global platform. This is to be noted that the feature hasn't arrived for all regions yet, it is available in some of the countries only. You can check the app settings, after updating the app to the latest version to check if your region supports the feature.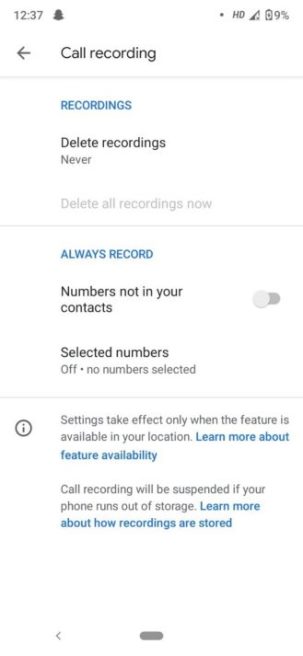 To check the availability, go to the Google Phone app settings and check for the 'Number not in your contacts' option, in the 'Always Record' section.